User Login
When a user logs in to the SACS Web System, the permissions available are based on the user's assigned role(s). Each role provides specific permissions within the application. For example:
A user with the DATASET APPROVAL role for the Davis Joint Unified School District entity has the permission to promote (approve) a submission (Pending Internal Review) to the next state (New Dataset Submission) submitted by users within that school district, including all subordinate charter schools and K12 schools.
or
A user with the USER MANGEMENT role for Yolo County Office of Education will have the permission to assign the role of OVERSIGHT to one or more users at the COE who will then have access to the oversight queue for all the district and charter submissions in the county. The user with the Oversight role can then promote a submission in the Promote to 1st Level LEA Review state from and district or charter within that county to the next state LEA Oversight Review Completed.
There are two basic accounts that exist within the SACS Web System: Public and Entity.
User Profile Page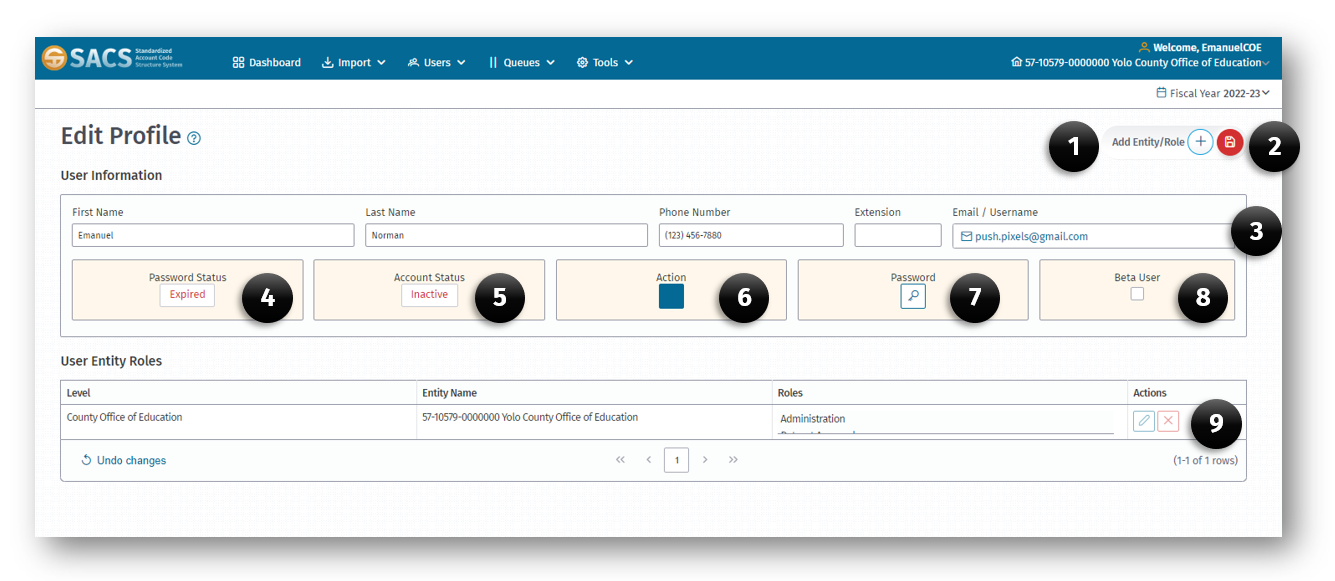 Add Entity/Role button
Save All Changes button
Email/Username field
Password Status indicator (Expired, Expires Soon, Active)
Account Status indicator (Inactive, Active, Locked)
Action button (Reinstate Account)
Password Reset button
Beta User checkbox
User Entity Roles Action buttons (Edit, Delete)
There are two basic accounts that exists within the SACS application, Public and Entity.
Account Types
Public Account
The Public Users Account is available to any member of the public by simply creating an account through the SACS online login page. Once created, a user can request additional roles from a user with the User Management role. The Public User account is the default account with the following permissions: - No assigned roles or associated entities - Ability to view published (UA data), certified budgets, and interim data for all entities.
Entity Account
Beyond the Public user account, accounts that are part of an entity (Charter School, District, COE, etc.) require a user with the role of User Management to authorize the roles within that entity. The user with that role will provide a policy or process in which users can request new or expanded roles.
Once you have been granted the additional roles, you can then import submissions, edit submissions, promote submissions and view submission details. Additionally, you will also be able to:
---